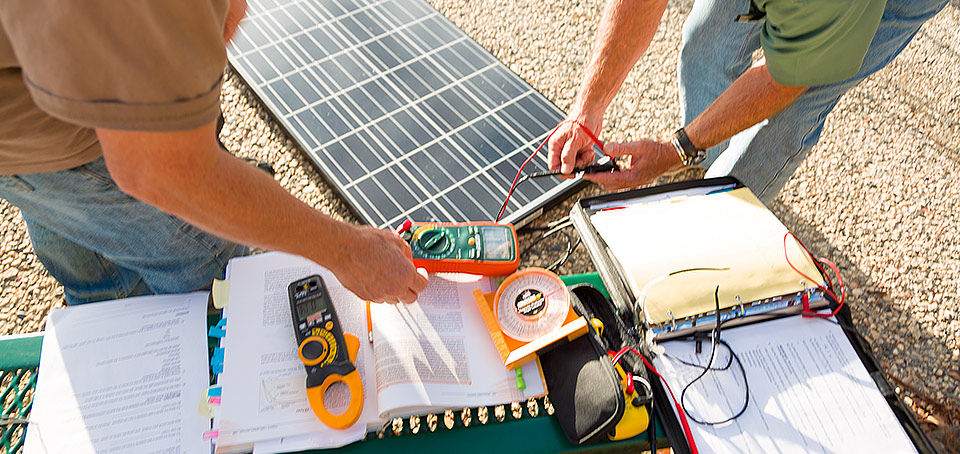 Contact Information

Division

Business and Technology

Dean

Amy Schulz

Associate Dean

Darlene Jackson

Division Office

B 3, Rocklin Campus
Overview
The Construction and Energy Technology curriculum is designed to give students a broad knowledge of the construction and energy industries. Coursework includes job safety, construction skills, work ethics and hands-on laboratory courses to provide trade related skills such as electrical, plumbing, carpentry and photovoltaics. The program provides foundational training for construction management programs as well as training for entry-level employment in the construction industries. The energy and photovoltaics courses provide the fundamental skills needed to excel in an energy sector career. In addition to degree and transfer opportunities, skills certificates are available in the field of photovoltaics.
Construction and Energy Technology Advisory Committee
Jeff Bailey, Instructor, Roseville High School
Phil Barnes, Manager, Energy Home Performance, Rocklin
Jim Bayless, Treasure Homes
Jon Bertolino, Sacramento Municipal Utility District
Michelle Bertolino, Roseville Electric
Jedediah Biagi, Plan It Solar
Anna Bousouris, Sierra Solar
Julia Burrows, Valley Vision
Peter Davis, ATTEI
Michael Dela Pena, Greentern
Steve Dolan, Instructor, Roseville High School
Brett Dotson, SMA-America
Cheryl Gibson, President, Von-Jac Development, Inc.; Board Member, Placer County Contractors Association, Auburn
Jim Gragg, SOLAReCITY Electric
John Hill, Sierra Solar
Brian Hurd, Hands On Solar
Darrell Johnson, Pacific Gas and Electric
Devan Johnson, KW Engineering
Sue Kateley, CalSEIA
Rick Larkey, Director, Workforce Development, North State Building Industry Association, Roseville
Richard Lindstadt, Foresthill High School
Sue Lunsford, Foresthill High School
Barbie Lussier-Davis, Owner, Mission West Builders, Cameron Park
Gil Mathew, Sierra Solar
Derek Ogden, City of Roseville
John Orr, Program Consultant, North State Building Industry Association, Roseville
Steve Paris, Instructor, Del Oro High School, Loomis
Patrick Remington, Owner, Remington Construction, Auburn
Jonathan Schwartz, Instructor, Colfax High School
David Schweickert, Co-owner, Capital City Solar, Roseville
Erika Schweickert, Co-owner, Capital City Solar, Roseville
Terry Seabury, Executive Director and CEO, Goweka Solutions, Sacramento
Terri Shirhall, City of Roseville
Sam Vanderhoof, Pacific Renewables Group
Martin Webb, Plan It Solar
David Weld, Instructor, Oakmont High School, Roseville
Susan Wheeler, Coordinator, Education Relations, Sacramento Municipal Utility District
Dan Zeisler, Principal, Chicago Park
Degrees/Certificates
Associate Degrees
Construction Management
Skills Certificates
Construction Basics
Noncredit Certificates
Energy Surveying and Lighting Retrofits
Construction Management
AS Degree
The curriculum in Construction Management focuses on providing a broad base of knowledge and skills targeted toward the management of construction operations.  The objective of the degree is to provide a foundation for continued study in construction management at a four-year college or university or for employment in the construction industry.  The program is oriented toward the practical problems of the construction industry and the curriculum emphasizes subject areas that provide a basis for employment in the industry including business, mathematics and foundational construction courses.  Students completing the Construction Management program will find a wide variety of career choices including estimator, construction manager, construction owner, and project manager. For the degree, students must fulfill the following major requirements with grades of "C" or better, complete a minimum of 60 degree-applicable semester units (12 of which must be completed at Sierra College) with a grade point average of at least 2.0, and complete one of the following three general education patterns:
Required Courses
Course List
Code
Title
Units
CET 0001
1
CET 0005
3
CET 0020
3
CET 0022
3
BUS 0001
3
BUS 0002
3
BUS 0003
3
ECON 0001A
Principles of Macroeconomics
3
ECON 0001B
Principles of Microeconomics
3
MATH 0016A
Calculus for Social and Life Sciences
4
or MATH 0030
Analytical Geometry and Calculus I
PHYS 0105
General Physics I
4
PHYS 0105L
General Physics I Laboratory
1
Total Units
34
Construction Basics
Skills Certificate
The Construction Basics Skills Certificate curriculum prepares students to work safely for small to large home builders in a labor role. This skills certificate provides a foundation for students to help employers directly build residential homes. A skills certificate is designed to provide career technical skills; it is not equivalent to an associate degree.
Required Courses
Course List
Code
Title
Units
CET 0001
1
CET 0003
3
CET 0005
3
Total Units
7
Energy Surveying and Lighting Retrofits
Noncredit Certificate of Completion
The Construction and Energy Technology noncredit Certificate of Completion prepares students to work for businesses in residential and commercial energy auditing, electrical wiring and commercial lighting retrofit trade industries.
Required Courses
Course List
Code
Title
Units
CET 0800
0
CET 0801
0
CET 0802
0
Total Units
0
Program Student Learning Outcomes (PSLOs)
Demonstrate a fundamental understanding of the construction and energy industries and identify career pathways and opportunities.
Identify code compliant construction.
Demonstrate safety compliance in the construction and energy industries.
Utilize fundamental building principles to lay out and construct structures and systems.
Explain the principles of Green Building and prescribe building solutions utilizing emerging technology.